E-Commerce Web Site with Host Data Integration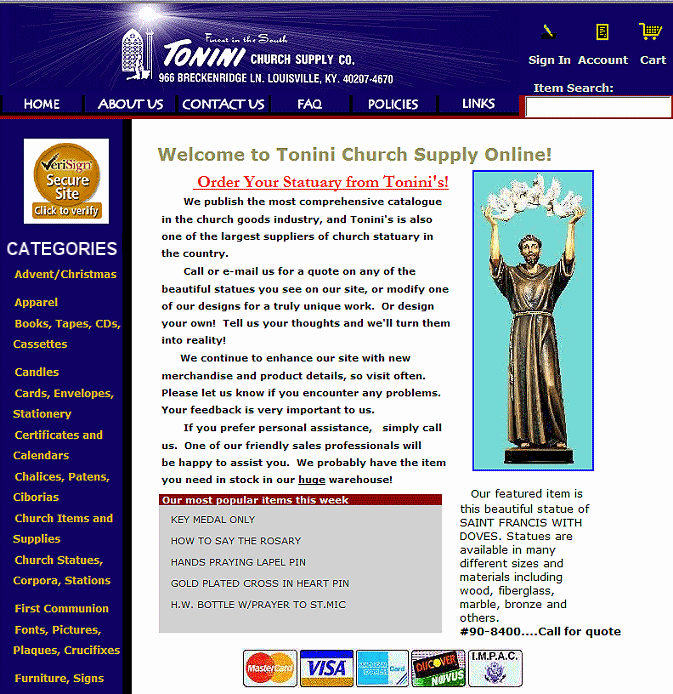 Key Benefits:
| | |
| --- | --- |
| | Affords 24/7 shopping capability for a worldwide customer base. |
| | Offers the opportunity to print fewer 4-color catalogues, thus saving printing and postage costs. |
| | Provides easy access for our client's large military customer base. |
| | Interfaces with legacy order entry and distribution system. New product information is entered only once. |
| | Easier to use, easier to train, more reliable than the original transfer process. |
| | Leverages the work expended to digitally photograph merchandise for the print catalogue. |
| | Utilizes state-of-the art Microsoft development environment, .Net framework and VisualStudio.Net. |
Synopsis:
Our client, a major retailer and wholesaler of religious goods and church supplies, publishes a 400-page, 4-color catalogue and ships merchandise all over the world. They are located in a modern 25,000 square-foot facility in the Louisville, Kentucky suburbs. 29,000 catalogs go out each year to customers of all sorts, and eighty percent of the business is from customers outside of Kentucky. Over a typical morning last fall, there were orders from Uganda, Iceland and American Samoa, among other places.
With "bricks and mortar" already in place, and with a fully operational digital photography and desktop publishing studio used in the production of the print catalogue, this customer was a prime candidate for the creation of an E-Commerce Web site. The issue: how to interface the existing product database residing on the company's IBM AS/400 midrange computer with the new Web site.
SRI was impressed by the tight integration of Microsoft's SQL Server product and the VisualStudio.Net development environment. For this reason, traditional Java-based AS/400 solutions were abandoned in favor of an interface between DB/400 on the AS/400 and SQL Server on the Web server. Using these tools, SRI created an E-commerce Web site and integrated it with the customer's existing IBM AS/400 order entry, distribution and accounting system. Product data and pricing that is maintained on the midrange computer is replicated in the SQL database so that changes are posted to the Web server without additional keying. As information regarding an item's availability or pricing is modified on the host, it is immediately reflected on the Web site.
The first order received when the new Web site was placed online was from a priest in Manila, Philippines, at 3:00 am EST. Obviously, this order could not have been taken by a customer service representative!

| | |
| --- | --- |
| Name: | |
| Title: | |
| Company: | |
| Address: | |
| E-mail: | |
| Phone: | |