SRI Solutions: The Difference Is Experience

Our client, a major regional bank, needed a way to streamline the creation, notification and historical tracking of funds transfers among customers, other banking institutions and the Federal Reserve system.

Using a Microsoft Access database and VBA, we created a custom-designed funds transfer handling system that integrates with existing Microsoft Outlook and PC-based faxing software for customer notification. This system eliminated hundreds of spreadsheets and numerous hours of manual processing and data entry. More info....



E-commerce Web Site with Host Integration
Our client, a major retailer and wholesaler of religious goods and church supplies, publishes a 400-page, 4-color catalogue and ships merchandise all over the world.
SRI created an E-commerce Web site and integrated it with the customer's existing IBM AS/400 order entry, distribution and accounting system. Product data and pricing that is maintained on the midrange computer is linked to the website database to post changes without additional keying.
As information regarding an item's availability or pricing is modified on the host, it is immediately reflected on the Web site. Our client's customers can now purchase merchandise anywhere in the world, 24 hours a day! More info....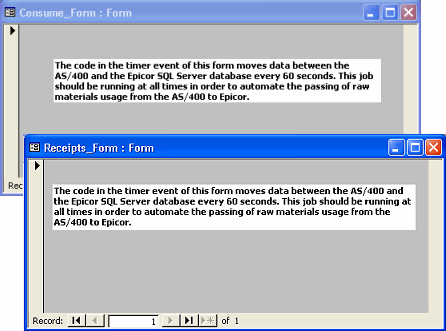 Integrate Legacy System & LAN Application
Our client requested assistance in integrating their legacy AS/400-based shop floor planning and raw materials inventory system with a new client/server-based financial software package.
SRI created a solution that employs Microsoft Access programs to synchronize the AS/400 data with the SQL database in the financial system. Now our customer does not need to worry when raw materials are received or consumed, and our solution also provided "confidence" reporting features that can alert our client to any discrepancies between the two databases. More info....




Professional Client/Server Applications
A large printer of magazines and journals had a customized order entry system that SRI designed and implemented over ten years ago.
It had always been a dream of the owners to place the order entry function directly into their customers' hands; giving them the ability to use the order entry system as a budgeting and planning tool and to perform "What If?" publishing scenarios. Questions like, "If I add this feature, what will the cost be?" or, "If I subtract this from my order, how much will I save?" could then be answered immediately.
SRI designed and programmed PICA, the Publishers Information & Cost Analyzer, and made our client's dream a reality. More info....




Custom Business Solution
A provider of credit to customers of auto dealerships needed a way to reduce the time and effort of completing the mounds of paperwork required to collect and process information on the credit-worthiness of potential buyers.
SRI created a custom-designed solution, using Microsoft Access with integrated faxing capabilities, to greatly speed up the loan application and approval process. More info....