Custom Designed Business Solution

Key Benefits:
| | |
| --- | --- |
| | Puts the order entry function into the hands of the customer, where it can provide the most useful information. |
| | Saves time and money for our client through fewer inquiries to customer support. |
| | Provides a reliable front-end to existing print production systems. |
| | Generates return business and inspires customer loyalty through the benefits provided by PICA. |
| | Engineered with state-of-the-art software development tools and object oriented programming techniques. |
Synopsis:
Our client, an automobile finance company, needed a way to reduce the time and effort of completing the mounds of paperwork required to collect and process information on the credit-worthiness of potential car buyers.
SRI created a custom-designed solution, using Microsoft Access with integrated faxing capabilities, to greatly speed up the loan application and approval process.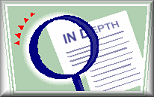 | | |
| --- | --- |
| Name: | |
| Title: | |
| Company: | |
| Address: | |
| E-mail: | |
| Phone: | |